Citrix DaaS Standard for Azure (formerly Citrix Virtual Apps and Desktops Standard for Azure) is the simplest, fastest way to deliver Windows apps and desktops from Microsoft Azure. Citrix DaaS for Azure offers cloud-based management, provisioning, and managed capacity for delivering virtual apps and desktops to any device.
The combination of Microsoft Azure and Citrix DaaS can provide organizations with a powerful and flexible platform for delivering virtualized applications and desktops to their employees. This blog post will explore the benefits of using Azure and Citrix together, provide a real-world use case, and offer tips for optimizing your Citrix environment on Azure. The Benefits of Azure and DaaS:
When you combine Azure and Citrix DaaS, the company gains access to a range of benefits, including:
Scalability: Azure provides a highly scalable platform for hosting Citrix DaaS, which allows for easily add or remove resources as needed.
Security: Azure provides a secure platform for hosting your virtual apps and desktops, with built-in security features such as firewalls and identity and access management.
Flexibility: Azure and Citrix together offer a flexible platform for delivering virtualized applications and desktops to your employees, with support for a wide range of devices and operating systems.
Cost-effectiveness: By using Azure and Citrix together, you can take advantage of a pay-as-you-go model that allows you to only pay for the resources you need, helping to reduce costs.
Use Case: Real life example of how a mid-size Manufactauring company improved their productivity with Azure and Citrix:
The company (name of organization is omitted for privacy reasons) was struggling to provide their employees with access to the applications and data they needed to do their jobs.
They had a number of legacy applications that were difficult to maintain and upgrade, and their desktops were outdated and difficult to manage.
To address these challenges, the company decided to implement Citrix DaaS on Azure. By moving their virtualized environment to Azure, they were able to take advantage of the platform's scalability and cost-effectiveness, while also providing their employees with more flexible and secure access to the applications they needed.
Since implementing Azure and Citrix DaaS, the company has seen a number of benefits, including:
Improved productivity: Employees can now access the applications and data they need from any device, from anywhere, leading to increased productivity.
Reduced costs: By using a pay-as-you-go model, the company has been able to reduce their overall IT costs.
Increased security: Azure provides a more secure platform for hosting their virtualized environment, which has helped to reduce the risk of data breaches and other security threats.
Hybrid multi-cloud support makes it easy to leverage existing resources alongside new cloud-hosted apps and desktops. Manage any on-premises resources and public cloud workloads side-by-side in the same central console, with full support for Windows 10 or Windows 11 Enterprise multi-session remote desktops.
Citrix HDX technology provides a high-definition virtualization experience that's unavailable with Azure Virtual Desktop.
Provisioning and app layering tools streamline common lifecycle tasks with Azure VMs. Citrix's Machine Creation Services (MCS) allows easy provisioning of hundreds or thousands of machines from a golden image and includes easy update and rollback features.
Getting Started: Setting Up Citrix DaaS on Azure:
To get started with Citrix DaaS on Azure, the following basic steps are required:
Create an Azure account and set up a virtual network.
Configure Citrix DaaS Desktops for use on Azure.
Install and configure the necessary components, such as the Citrix Cloud Connector and Citrix Virtual Delivery Agent.
Deploy your virtual apps and desktops on Azure.
Best Practices for Optimizing Your Citrix Environment on Azure:
To ensure that your Citrix environment is running at peak performance on Azure, it's important to follow these best practices:
Use Azure Resource Manager templates to automate deployment and configuration.
Take advantage of Azure's monitoring and reporting tools to monitor performance and identify issues.
Optimize your virtual machines.
An architectural overview of a Virtual Desktops Essentials deployment.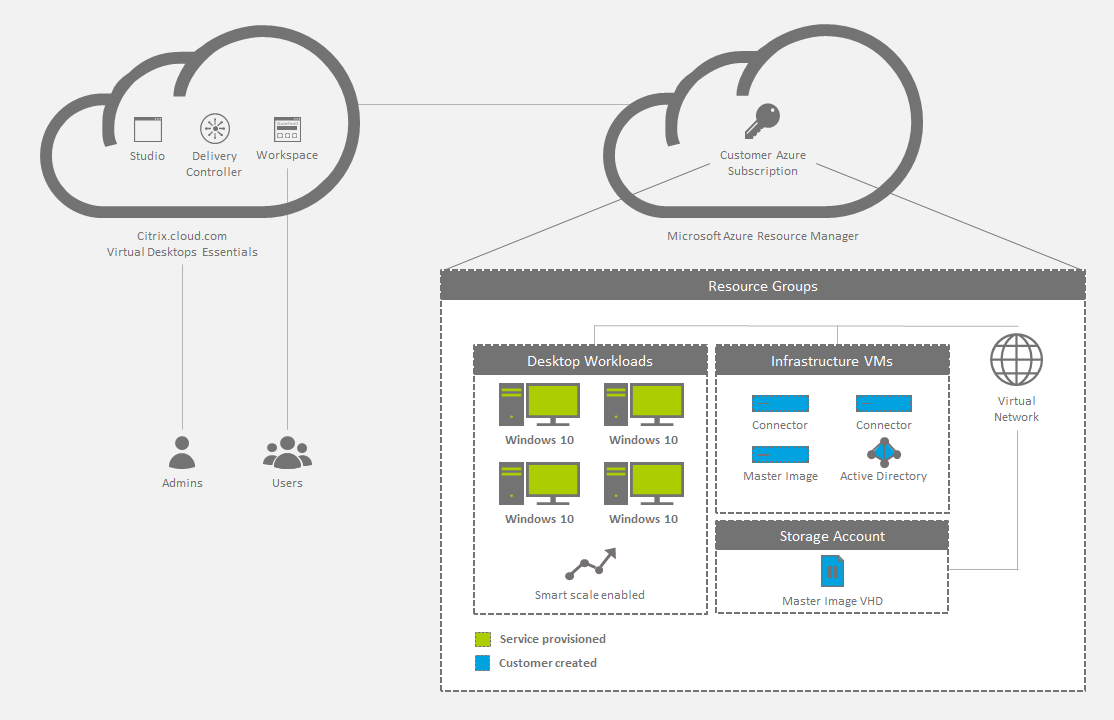 If the company is already using Azure Virtual Desktops, employ the Citrix Optimization Pack will improve performance, scalability, management, security, and more—all while delivering an incredible user experience and driving down TCO. Based on proven Workspace Environment Management features, the optimization pack easily integrates within your native Azure Virtual Desktop deployment to deliver tangible benefits regardless of workload size or type.
For more information about Cirix DaaS and Azure click here.
Ready to take advantage of the power of Azure and Citrix for your organization's virtualization needs? Connect with us today to learn more about our services and how we can help you get started. Our team of experts can guide you through the process of setting up Citrix Virtual Apps and Desktops on Azure and provide ongoing support to ensure that your environment is running smoothly. Contact us now to see how we can help you maximize your Azure investment with Citrix.