Microsoft 365 for enterprise is a complete, intelligent solution that empowers everyone to be creative and work together securely.Microsoft 365 for enterprise is designed for large organizations, but it can also be used for medium-sized and small businesses that need the most advanced security and productivity capabilities.
ComponentsMicrosoft 365 for enterprise consists of:
Local apps and cloud-based apps and productivity services:
Includes both Microsoft 365 Apps for enterprise, the latest Office apps for PC and Mac (such as Word, Excel, PowerPoint, Outlook, and others), and a full suite of online services for email, file storage and collaboration, meetings, and more.
Windows 10 Enterprise:
It's the most productive and secure version of Windows for users. For IT professionals, it also provides comprehensive deployment, device, and app management.
Device management and advanced security services:
Includes Microsoft Intune, which is a cloud-based enterprise mobility management service that helps enable your workforce to be productive while protecting your organization data.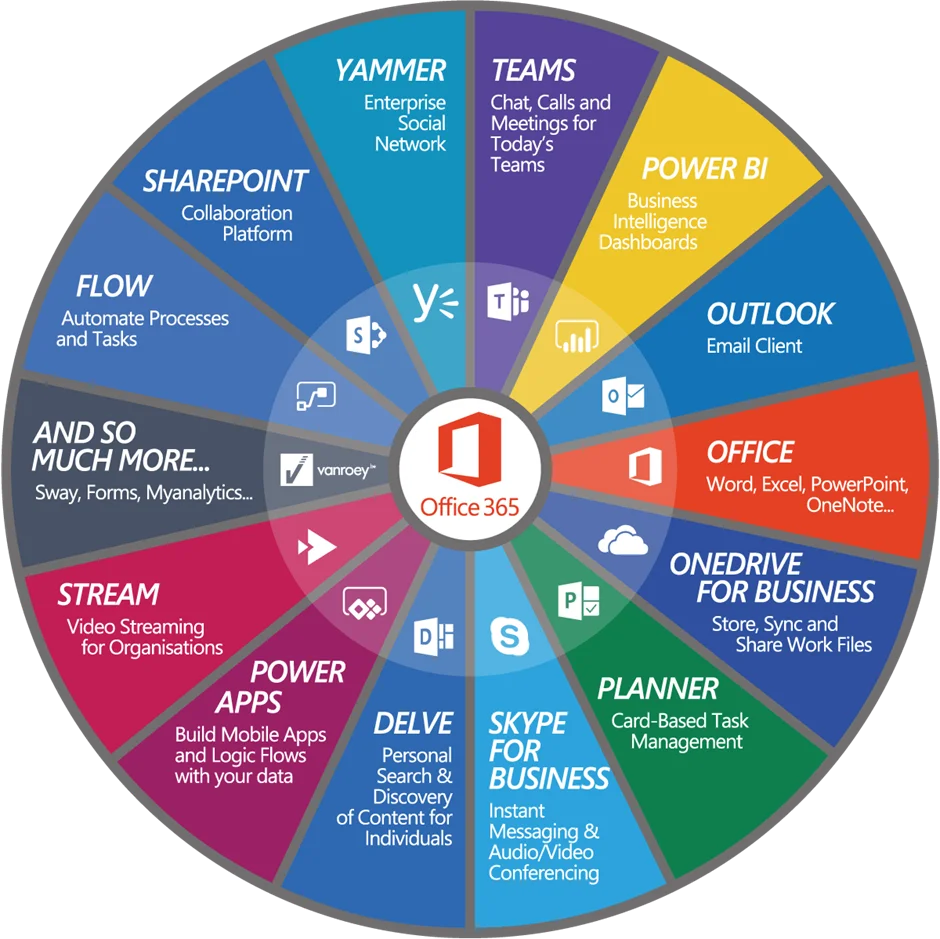 Microsoft 365 Apps for enterprise
Microsoft 365 Groups
Groups in Microsoft 365 connects users with the colleagues, information, and applications they need to get more done together. Groups are open by default to enhance discoverability and sharing, but users can also create private groups for sensitive content. To learn more about groups, see Groups in Microsoft 365.
Delve
Delve lets users search for and discover content across Microsoft 365 based on personalized insights. Delve is the first experience to be powered by Office Graph.
Microsoft Graph API
Use the Microsoft Graph API to quickly build apps that connect to a wealth of resources, relationships, and intelligence, all through a single endpoint: https://graph.microsoft.com. For example, companies can build custom dashboards, workflows, and apps that retrieve data for the organization.
Microsoft Kaizala
Microsoft Kaizala is a simple and secure mobile work management app, bringing unique capabilities to Microsoft 365, with its ability to connect and engage people both inside and outside of an organization's directory – including contract workers, vendors, partners, suppliers, customers, and citizens – using large and flexible group types. Kaizala's open directory model enables phone number-based identity for easy onboarding, and a simple user experience for messaging and work management. The Kaizala mobile app lets users send instant messages and attachments such as pictures, documents, videos, audio files, and more as well as use action cards for surveys, polls, job assignments, announcements, trainings and more. Kaizala works on iPhone and Android.
Microsoft Lists
Microsoft Lists is a Microsoft 365 app that helps track information and organize work. Lists are simple, smart, and flexible, so users can stay on top of what matters most to the team. Track issues, assets, routines, contacts, inventory, and more using customizable views and smart rules to keep everyone notified and in sync. With ready-made templates, users can quickly start lists online, on our new mobile app, or within Microsoft Teams. As it's part of Microsoft 365, users can rely on enterprise-ready security and compliance.
OneNote Class Notebook
Class Notebook is part of OneNote and is available for Office 365 Education and Office 365 E5 Education. Each notebook includes a Content Library for teachers to share course content, a Collaboration Space where teachers and students can work together, and a private notebook for each student. After a Class Notebook is created, teachers and students can use the OneNote app to access it from any device.
Microsoft Planner
Microsoft Planner is a tool that gives users a visual way to organize teamwork. Teams can create new plans, organize and assign tasks, share files, chat about what they're working on, set due dates, and update status. Microsoft Planner also offers the ability to associate documents with specific tasks, edit them together, and have conversations around tasks. .
Microsoft Power Apps
Microsoft Power Apps is an enterprise service that helps to quickly build, integrate, and share apps that work on any device. Power Apps lets the use of built-in connections or those built by the company to connect the app to cloud and on-premises services, including Microsoft 365 and Office 365, Dynamics CRM, OneDrive, SharePoint, SQL Server, Oracle databases, and more. Users can easily share Power Apps with coworkers by typing an email address.
Microsoft Power Automate
Microsoft Power Automate allows for the automation of workflows across applications. Use Flow to connect email and IM alerts, synchronize files between applications, copy files from one service to another, collect data from one app and store it in another, and more. Templates are available to get started.
Microsoft Search
Microsoft search is available to the following SKUs: Microsoft 365 A3/A5/E3/E5/F1, Microsoft 365 Business, Office 365 A1/A3/A5, Office 365 Business Essentials and Premium, Office 365 E1/E3/E5/F1, Office 365 Education E1/E3, OneDrive for Business (Plan 1 and 2), and SharePoint Online (Plan 1 and 2).
Microsoft Stream
Microsoft Stream is an enterprise video service that people in the organization can use to upload, view, and share videos securely. Users can share recordings of classes, meetings, presentations, training sessions, or other videos that aid the team's collaboration. Microsoft Stream also makes it easy to share comments on a video and tag time codes in comments and descriptions to refer to specific points in a video.
Microsoft Sway
Microsoft Sway is a professional digital storytelling app for business that helps in the team members express ideas using an interactive, web-based canvas. Microsoft Sway's built-in design engine helps produce professional, visually appealing reports, presentations, and more without the need for extensive formatting or additional training. Users can also modify the results to get the unique look and feel as needed. Microsoft Sway makes any creation look great in any browser on any screen, and it can be shared with colleagues and customers by sending a link. Microsoft Sway helps find and pull together all sorts of content without leaving the app, so users can drag and drop the images, text, videos, and charts right on to a canvas.
To Do
Microsoft To Do is a task management application that allows customers to plan their day and manage their tasks – across work and life – from any device. With Microsoft To Do, customers can:
Sync their tasks across Outlook, Teams, Planner, and more.
Stay focused with My Day, a personalized daily planner with suggested tasks.
Get their lists anywhere, on any device or platform.
Share lists and assign tasks with colleagues, friends, and family.
Whiteboard
Microsoft Whiteboard is a freeform, digital canvas where people, content, and ideas come together. Use Whiteboard for collaborating with team members to accomplish many activities — whether the team is in the same place or in multiple locations. Team members can work collaboratively using their own devices..
Windows Update for Business deployment service
The Windows Update for Business deployment service provides control over the approval, scheduling, and protection of content delivered by Windows Update. It's designed to work with the existing Windows Update for Business policies to provide rich control over individual updates. Capabilities provided by the deployment service include:
Schedule feature update deployments to begin on a specific date.
Stage deployments over a period of days or weeks by using rich expressions.
Bypass pre-configured Windows Update for Business policies to immediately deploy a security update across your organization.
Ensure coverage of hardware and software in your organization through deployments tailored to your unique device population.
Automatically identify and pause deployments to devices, which are likely to be impacted by a safeguard hold.
These capabilities are made available through Microsoft Graph APIs and integration with Microsoft Intune.