Microsoft 365 – Overview.
(Information supplied by Microsoft – Fundamentals of Microsoft 365)
Microsoft 365 is a cloud first platform (Cloud First – is a strategy that prioritizes the cloud as the default option) enabling users to work —wherever, whenever, however).
Microsoft 365 is designed to create a modern-day working environment by allowing access to all the digital tools needed to for users to connect, collaborate, communicate, share and perform, i.e., increase productivity in a secure hybrid environment.
Core features of M365 - Connected, Communicate and Collaboration
Tools in M365 such as Teams, SharePoint, Viva and more, create an environment where employees can be as productive as if on-premises from anywhere:
Online meetings, chat sessions, and push-to-talk communication with Microsoft Teams.
Shared workspaces for cloud-based file storage with global accessibility and real-time collaboration with SharePoint and OneDrive.
Shared tasks to divide up the work and automated business processes to increase operational efficiency.
M365 is a Cloud Based platform which enables users to stay connected from anywhere in the world and at any time, allowing access to:
Cloud-based services and data in your Microsoft 365 subscription.
Organization resources, such as those offered by on-premises application data centers.
Microsoft 365 includes Office 365
The package includes all the necessary applications for productive work: including Access (PC only), Excel, Microsoft Teams, OneDrive, OneNote, Outlook, PowerPoint, Publisher (PC only), and Word.
All the applications can connect with services such as Microsoft Exchange Online and SharePoint Online.

Additional M365 Management tools - streamlines work management through a set of purpose-built tools that add structure to all elements such as tasks, status updates, schedules, projects, etc. that go into delivering quality business results.
These tools include:
Microsoft Project:
Project – designed for web project management and is Microsoft most recent offering for cloud-based work. It is capable of handling complex work effort while maintain control, for example assigning tasks, regular updates while keeping each team member fully informed as to the progress of the project.
Microsoft Project is fully integrated with Teams for enhanced communication and collaboration. Project allows the ability to tackle anything from small projects to large initiatives. Project managers and team members can use Project for the web to plan and manage work that may require dynamic scheduling, subtasks, and/or dependent tasks, regardless of team size.
Power BI
Power BI uses powerful interactive dashboards - a highly advance dashboard allowing for comprehensive visualization of the project, its components and progress. Power Platform can easily integrate all other apps and data required to complete the project.
Microsoft Planner / Bookings / To Do /Lists These applications are there to assist in planning, assigning tasks setting deadlines, notifications to team members in order for the project to meet the desired outcome and by adding a "Tasks by Planner" tab, use @mentions in Word, Excel, and PowerPoint to assign tasks, and add your tasks to your calendar in Outlook or Microsoft To Do.
In addition, Bookings creates the ability to "Book", schedule and manage appointments. Booking can be used for the project team, include client interaction and integrate with Microsoft Teams or Skype for Business to support virtual appointments and Bookings calendar management through the Bookings app in Teams.
Additional apps included in M365 to improve productivity:
Clipchamp is an in-browser video creation and editing experience. Create compelling videos using its library of filters, styles, transitions, and stock media combined with the power of a multi-track audio and video compositing editor.
Delve helps manage your Microsoft 365 profile. It lets you search for and discover content across Microsoft 365 based on personalized insights.
Dynamics 365 is a set of intelligent business applications that helps you run your entire business and deliver greater results through predictive, artificial intelligence (AI) driven insights. These applications unify customer relationship management (CRM) and enterprise resource planning (ERP) capabilities by delivering new purpose-built applications designed to connect customers, products, people, and operations.
Dynamics 365 Customer Voice is an enterprise feedback management application you can use to easily keep track of the customer metrics that matter the most to your business. It adds rich insights by feeding real-time survey data into customer records and helps you stay informed on what customers value and how they view your products and services.
Power BI is a cloud-based suite of business analytics tools that lets anyone connect to, visualize, and analyse data. Find and share meaningful insights with hundreds of data visualizations, built-in AI capabilities, tight Excel integration, and pre-built and custom data connectors.
Sway helps you express ideas using an interactive, web-based canvas. It can help you quickly and easily create professional, interactive, and visually appealing designs from images, text, documents, presentations, videos, maps, and more.
Whiteboard is a freeform, digital canvas. It functions like a traditional whiteboard but hosted virtually.
Endpoint modernization, management concepts, and deployment options in Microsoft 365
The modern workplace must cater for a multiple of devices connecting to the environment using a variety of different OS (referred to as endpoint devices). Microsoft Endpoint solutions simplifies the management of these devices. The solutions Microsoft offer is primarily concerned with network security, management and control of endpoints connecting to the environment, whether the device is a machine of a Virtual Machine (VM) and connecting remotely, on premises or both (Hybrid)
Microsoft Intune
Microsoft Intune is a cloud-based unified endpoint management solution. Primary functions:
Manages user access and simplifies app and device management catering for all types of endpoints.
Protect access and data on organization-owned and users' personal devices.
Integrates with other services, including Azure Active Directory, on-premises Configuration Manager, mobile threat defense (MTD) apps and services, Win32, and custom LOB apps, and more.
Intune has compliance and reporting features that supports Zero Trust security model.
Configuration Manager
Configuration Manager is an on-premises management solution:
Configuration Manager manages data centers, apps, software updates, and operating systems.
Cloud-enabled and can be integrated with Intune, Azure Active Directory, Microsoft 365 Defender, and other cloud services.
Manages applications, OS deployments, software updates, monitor compliance, and more.
Co-management
Co-management combines your existing on-premises:
Configuration Manager investment with the cloud-based features in Intune, including using the web-based Endpoint Manager admin center.
Unlocks more cloud-powered capabilities like conditional access.
Enables to concurrently manage Windows 10 or later devices by using both Configuration Manager and Microsoft Intune. (Also referred to as System Centre Configuration Manager (SCCM)).
Tenant-attach
To manage a combination of both cloud and on-premises endpoints – Cloud Attach uses both Intune and Configuration Manager.
Cloud attach consists of tenant attach, co-management, and Endpoint analytics.
Tenant-attach sets up synchronization between Configuration Manager site and the Intune tenant providing a single view for all devices that are managed from the Microsoft Endpoint Manager admin center.
Endpoint Analytics
Endpoint Analytics - a cloud-native service that provides metrics and recommendations on the health and performance of Windows client devices.
Endpoint Analytics is part of the Microsoft Adoption Score.
Gives detail insights, measuring how an organization is working and the quality of the experience delivered to users.
Endpoint analytics can help identify policies or hardware issues that may be slowing down devices and enabling IT departments to proactively make improvements before end-users generate a help desk ticket.
Windows Autopilot
Windows Autopilot is a cloud-native service that sets up and pre-configures new devices, getting them ready for use.
Use Windows Autopilot to reset, repurpose, and recover devices. It's designed to simplify the lifecycle of Windows devices, for both IT and end-users, from initial deployment through end of life.
Autopilot is used to preconfigure devices, automatically join devices to Azure Active Directory or enroll devices in Intune, customize out of box experience and more.
Autopilot can be integrated with Configuration Manager and co-management for more device configurations.
Azure Active Directory (Azure AD)
Azure AD is a cloud-native service that's used by Intune to manage the identities of users, devices, and groups. The Intune policies created are assigned to these users, devices, and groups. When devices are enrolled in Intune, users sign into their devices with their Azure AD accounts.
Endpoint Manager admin centre
This admin center is a one-stop web site to add users and groups, create and manage policies, and monitor policies using report data and more.
Windows 365 and Azure Virtual Desktop – Important sidebar.
Both Windows 365 and Azure VD are Daas, however there are important differences to be aware Of. Windows 365 is a new type of Virtual machine know as Cloud PC designed for organizations of all sizes which securely stream the full Windows experience including, apps, data, and settings, from the Microsoft cloud to any personal or corporate device.
(Windows 365 is available in two editions: Windows 365 Business and Windows 365 Enterprise. To learn more about these editions, see Compare Windows 365 Business and Enterprise.)
Windows 365 offers the following: Stream your apps, data, content, and settings from the Microsoft cloud to any device and pick up where you left off.
Personalized Windows 365 Cloud PCs available across devices.
Dedicated to a single user.
Simple to deploy and manage from a single console.
Easily set up and scale Cloud PCs to fit the user needs and securely support changing workforce requirements and new business scenarios.
Assign a license to a user and Windows 365 is automatically provisioned for that user.
Azure computing and storage are Microsoft managed with a fixed cost.
Azure Virtual Desktop (AVD) is a modern and secure desktop and app virtualization solution that runs on the cloud.
AVD allows users to connect to a Windows desktop running in the cloud. It's the only solution that delivers multi-session on Windows.
AVD gives you the ability to access your desktop and applications from virtually anywhere. Azure Virtual Desktop offers the following functions:
Set up a multi-session Windows Client deployment that delivers a full Windows experience with scalability.
Dedicated to a single user or used by multiple users, using FSLogix technology.
Present Microsoft 365 Apps for Enterprise and optimize it to run in multi-user virtual scenarios.
Incorporate existing Remote Desktop Services (RDS) and Windows Server desktops and apps to any computer. Virtualize both desktops and apps.
Manage desktops and apps from different Windows and Windows Server operating systems with a unified management experience.
Azure computing and storage are customer managed with consumption-based costs.
Windows-as-a-service (Waas) - a new way to work with Windows Desktop
The WaaS model is designed to make life easier for both users and IT professionals by simplifying. The deployment and servicing of Windows client computers and maintains a consistent and current Windows experience for users. (To learn more about WaaS - click here)
Additional reading:
Azure Virtual Desktop on Surface
Run Virtual Desktop Infrastructure (VDI) on a Surface device.
AVD on Surface blurs the lines between the local desktop experience and the virtual desktop, where touch, pen, ink and biometric authentication span both physical and virtual environments.
Comparison between WaaS and Azure AVD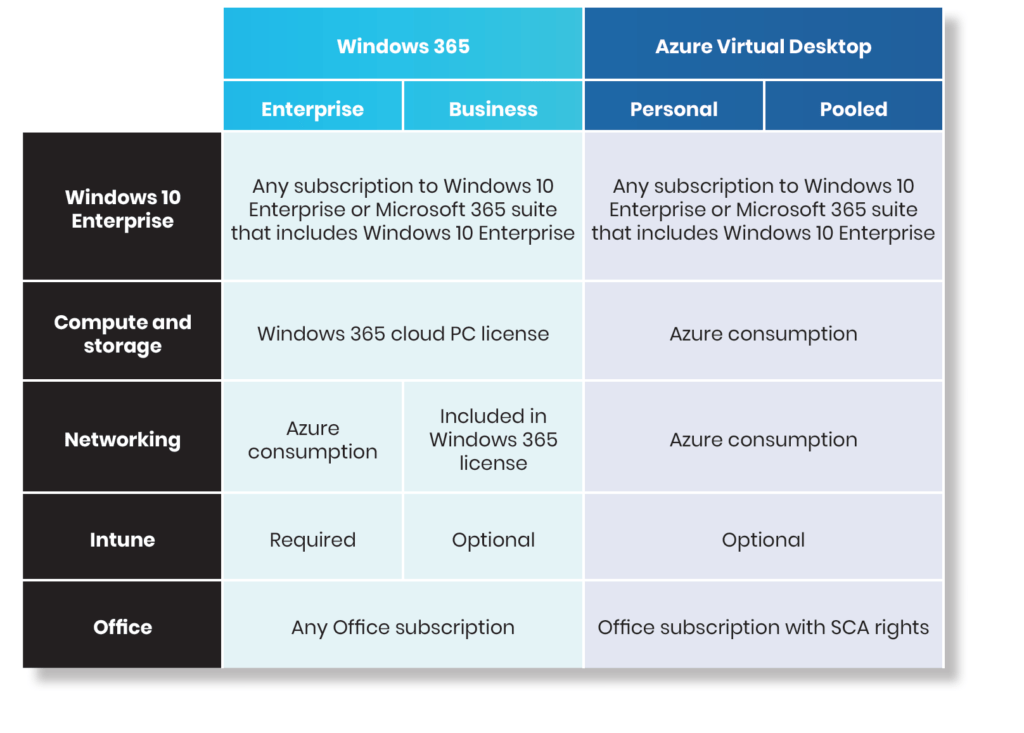 Microsoft for Enterprise plans and pricing. Compare Microsoft 365 for Enterprise Plans and Price (E3, E5 and F3 – Frontline). For a detailed breakdown of the M365 plans for enterprise – review here.
Conclusion - Microsoft 365 – Hype or a business necessity?
In conclusion, before OAS offers any comments on Microsoft 365 in answering the question -hype or a necessary business tool, OAS suggests the following important considerations before implementing any new technology.
Set strategic business goals and benchmark expected outcomes. Choose the technology that will meet the overall business objectives.
The decision on the choice of technology is no longer an IT Department decision. Choosing a new platform or any new technology is a business decision and rests with the executive decision makers – such as CEO, CFO, CIO, HR, and marketing.
Employee Experience – the IT Department may have complete understanding of the new system, however frontline employees, such as sales, administration, customer services, even the accounting staff, quite frankly could care less how the new technology works, the one requirement these users require is "will the technology make it easier to do their required job". Therefore, training is essential. If the system is too complicated to use, user adoption will be low and employee resistance could have a negative impact on the overall business.
Customer Experience - The most important aspect that needs to be considered when introducing an update or new technology is how it will impact on the overall customer experience. The way in which customers interact with the organisation is pivotal to the success of the company. Therefore, any changes to the method of client interaction will need to be carefully considered, as a too drastic change could frustrate the client which could drive the client to disengage with the company and seek an alternative offering.
OAS - Microsoft 365 review.
From a digital transformation perspective OAS believes that Microsoft 365 is a necessity for any size business. M365 combined with Office 365 offers organizations all the necessary tools to create a highly effective working environment whether remote or Hybrid and is designed to enhance user experience, offers the best-in-class security and readily available for use within a extremely short period of time.
The pricing models are extremely competitive, therefore overall M365 does offer an attractive return on investment and can accommodate third party solutions already running on the network, further reducing costs.
However, as OAS is a Microsoft Partner the above opinion could be considered bias, therefore below are reviews from various publications and Gartner Peer Review Insights 2023, giving the reader the opportunity to draw their own conclusion.
Reviews
"Whatever the size of your business, Microsoft 365 offers up the most comprehensive and secure set of productivity applications on the market. You have a best-in-class spreadsheet tool, the best word processor on the market, seamless cloud support for sharing and collaborating, and the best note-taking app ever created.And the best thing about Microsoft 365 is that it ALL works brilliantly together, as a seamless platform. This means it can plug straight into your business and begin making positive changes right away. The apps are flawless, and they work cross-platform on all types of devices.OneDrive is a brilliant feat of engineering too. It effortlessly glues everything together, making collaboration, sharing, and file management a breeze compared to similar options from Microsoft's competitors."(Read complete review-knowyourmobile)
"There's no denying the accomplishments of Microsoft 365. It is an unrivalled collection of features and tools packed into applications often seen as the flagships of office productivity. While online tools aren't as smooth as the competition, it's a minor flaw in an otherwise incredible user experience."(Courtesy LapTop Mag)
Gartner Peer Insights– Office 365 review in brief (Full review) Rating summary:
Gartner - Office 365: "Incredible Tool for Content Service Platform"Submitted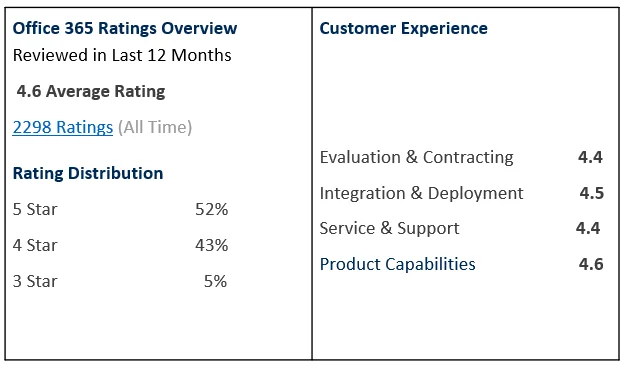 5.0 Overall User Rating Product(s): Office 365
A Reviewer Comment – sums up the overall view of Office 365.
"Microsoft office 365 is all in one tool for organization if we talk about content service platform. It has great features and functionalities that helps the employee to the daily office work in efficient manner. It helps to create documents, excel sheets, presentation through a single application called office 365.
Moreover, every application or we can software that is available inside office 365 have great customization capabilities. Documents can be modified, saved according to user choice, animation and 3D effects can also be added in presentation. Excel come with great mathematical formula that helps in accounting and sales part. We can work together by connecting different employees, so it is great tool in terms of collaboration. Integration and deployment is pretty easy and straightforward and it go as planned because there are only few dependencies from network side.
Microsoft is a brand in the market and is extremely stable in terms of providing the service."
Reviewer Profile (Invited by Gartner – email /event account rep)
Network Security Engineer – Services industry – IT Security and Risk Management.
Deployment Architecture – Hybrid Cloud and On-premises